Our Purpose
---
We Enable the Transformation of Light…

IGM is dedicated to the development of innovative energy curing technology offering integrated raw material solutions (photoinitiators, energy curing resins and additives) for UV curing formulations in our key markets Printing and Packaging, Industrial Coatings and 3D Printing, Electronics and Adhesives, and several niche markets.
UV-LED, UV or even day-light activates the photoinitiator-system which initiates the polymerization (curing/drying) of the formulation.
As a customer and market driven company, we offer technical and regulatory advice and support to our customers enabling them to provide high performing and compliant UV curing formulated systems to their customers.
…for a Better Future.

UV curing formulated systems are solvent free and have excellent performance properties contributing to a better and more sustainable future.
As part of our sustainability strategy, we focus on UNSDG 12 "Responsible Consumption" and 13 "Climate Action" where we as a company can have the most significant impact. Initiatives under UNSDG 12 and 13 have a good fit with EcoVadis categories "Environment" and "Sustainable Procurement". In addition, we will focus on initiatives that align with EcoVadis categories "Labor and Human Rights" and "Ethics".
Join our team
---
Strategy & Marketing
Innovations & Technology
Operations
Finance
Our Culture
---
In IGM, our people matter. We see the contribution of our team members as critical to our success, from a personal satisfaction, as well as a business performance perspective. We offer an environment where we empower our team members. We appreciate and value the diversity of our team; we highly encourage each individual to bring their own personality and creativity, leading to individual positive impact to the Business and the global IGM team members.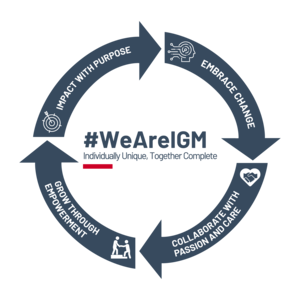 A company culture can be defined as a set of shared values, goals, attitudes, and practices that characterize the organization but for us in IGM, it is much more. Our Cultural Agenda includes our current strengths, as well as our opportunities. All these elements are reflected in our 4 pillars. It is the compass in behavior and decision making and it will unify us with all our different backgrounds, experiences, and personalities.
We believe by embracing these guiding principles, it will have a positive impact on our daily lives. We will be delivering our individual strengths, combined with our common culture to work as one unified team. This is the essence of our Cultural Agenda: #We are IGM: Individually Unique, Together Complete.
As a growing business, we are always looking for more colleagues. We are always interested to meet potential future teammates who want to help us build our position in the global energy curing industry. If this excites you, we want to get to know you.
Please check out our current job openings or send an open application to:
with your cv/resume and cover letter.
We offer an environment that encourages and highly values collegiality, accountability, and ownership. We see the contribution of our team members as critical to our success and we consider Employee Satisfaction as a key ingredient leading to our Customers' satisfaction.